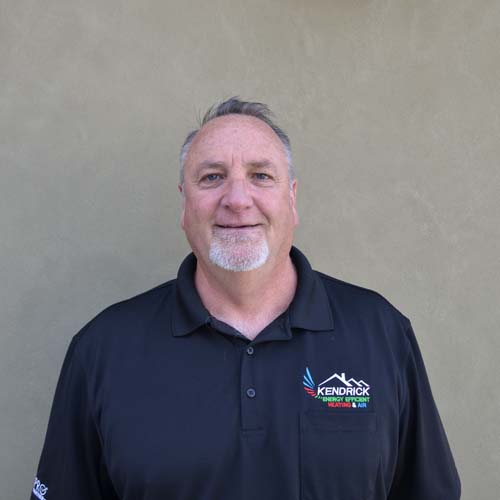 Jerry
Owner
2 Reviews
Air Conditioner Maintenance in Other, CA 95746
"I have neglected to get me HVAC serviced for several year since it continued to operate. with the heat I figured it was time and looked for someone nearby. Kendrick had all 5 star reviews and now I can see why. Jordan returned my call immediately and Jerry came our as we had scheduled. The price was competitive and the service was extremely thorough. Everything checked out and they did not try to upsell me. Jerry was EXTREMELY professional and friendly. It's always nice to deal with the owner of the company and I really liked supporting the local small business. I would highly recommend Kendrick for your HVAC needs"
- Robert B.
Gas Furnace Repair in Roseville, CA 95746
"Due to staff shortages, one of Kendrick's competitors recommended Kendrick HVAC to replace a bad thermostat. Jerry made adjustments in his work schedule and came out in the mid afternoon and replaced a 20 year old thermostat with a new digital model. From all of Jerry's installation verification checks, the new thermostat was working properly. Later that evening, when the heater was supposed to come on, the air conditioner came on instead. I called Jerry's business line and left an after business hours message. The next morning, Jerry called me and again made adjustments in his schedule and made me his first service call. The thermostat he installed was a bad thermostat from the factory. Jerry came to my house with two digital thermostats for me to chose from. He replace it and the HVAC system now works perfectly.
Jerry had no control over knowing the thermostat was bad. I am not a HVAC expert, but I am not HVAC ignorant either. I watched everything he did to install the thermostat and check the functionality of the first one he installed, and everything checked out properly. Installing a bad piece of equipment from the factory can happen to anybody. But the impressive thing is that Jerry checked all of his messages before beginning his work day and made adjustments in his work schedule to address my needs. I find his technical capabilities are outstanding, but I find his work ethic in addressing a customer's needs as some of the best I have ever seen. Thank you Jerry!!!"
- Rick V.